Get Access to the latest LCA Datasets with GaBi LCA Databases


GaBi Software includes the most reliable LCA data for the best results.


Over the last 25 years we have developed the largest internally consistent LCA databases available on the market. GaBi Databases provide a reliable basis for strategic decision-making in the fast-changing business environment.
Benefit from real-world data.
We offer over 12,000 Life Cycle Inventory datasets based on primary data collection during our global work with companies, associations and public bodies.

These datasets have been developed from an underlying database of about 30,000 unit process datasets – by far the largest industry-based Life Cycle Inventory data coverage worldwide. In addition to the standard Impact Assessment methodologies, for the first time, regionalized water and land use data are included throughout the GaBi databases and can be used with your own regionalized data. Compliance and standardization concerning ISO, EN, ILCD, PEF/OEF has been further advanced, and the dataset-internal documentation is more detailed than ever.
GaBi Databases span most industries including:
| | | |
| --- | --- | --- |
| | | |
| | | |
| | | |
| | | |
| | | |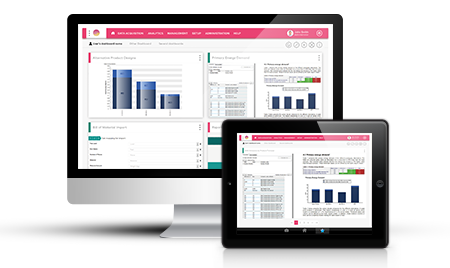 Selected GaBi customers
GaBi Database Benefits
Always up-to-date
An LCA is only as valid as its data. In our global economy, new products, processes, raw material options and manufacturing methods are routinely introduced. That is why thinkstep has a unique annual upgrade programme: every year, we fully refresh all contents in the GaBi Databases, providing you with the most current Life Cycle Inventory data and impact methodologies.
GaBi Software also offers compatibility with third party databases such as Ecoinvent and NREL's U.S. LCI Database.
Expert Quality
Development of the GaBi Databases began over 25 years ago and continues today with the same momentum and attention to detail. More than 60 life cycle experts from thinkstep from over 20 countries contribute to the development of GaBi Databases. All LCI datasets are generated in compliance with the ISO 14044, ISO 14064 and ISO 14025 standards.

Need even more data?
Should you need a customized dataset utilize thinkstep's broad range of sector expertise to create a database to suit your needs with our unique data-on-demand service.
GaBi Software also offers compatibility with third party databases such as Ecoinvent and NREL's U.S. LCI Database.
Excellent Support
thinkstep is well known for its excellent technical support. GaBi clients have a personal contact for all data questions.